Although it is not a new tool, SMS is still an effective way to communicate with your guests. With the rise of texting apps, such as WhatsApp, people are becoming more comfortable with receiving messages from companies via their phones. They are easy to use, inexpensive and more importantly – they get the point across quickly. Guest communication is critical for vacation rental companies, and SMS provides a number of advantages that other channels cannot match. Better response rates: SMS has the highest open rate (98%) and click-through rate (64%) of any channel.
Guest management is a huge pain for vacation rental companies. Managing the guest experience is an important part of hospitality business as it is directly related to your bottom line. It's said that 80% of guests will not return if their first visit wasn't positive. To make matters worse, 60% of those who do come back again won't refer you to anyone else. SMS can be a great way to communicate with your guests and ensure they have the best possible experience at your vacation rental.
SMS is not just a convenient form of communication — it's also very effective. It has the highest engagement rate out of all forms of digital and direct marketing, with an open rate of 98%. That means that 98% of people who get your text message will read it.
Many hotels and hospitality businesses use SMS to communicate with their guests. This is a great way for these organizations to reach out and engage with their guests, and it also helps them improve the service they're providing. Not only does this provide a much better experience for the guest, but it also allows them to take advantage of the information that comes back from those texts.
Automated SMS Message Workflows
It is possible to automate some parts of the guest communication process using SMS. This can be very helpful for streamlining your workflow, freeing up your time and reducing the amount of work you need to do. Using a tool like PropertyCare.com you can automate the message flow to your guests pre-arrival, in-stay and post stay marketing. The following are good examples of the types of SMS messages that can be set up and sent automatically to guests:
Booking Confirmation
Door Code Entry Instructions
Check Out Instructions
Post Stay Survey
What Software Do I Need to Automate SMS Communications With My Guests?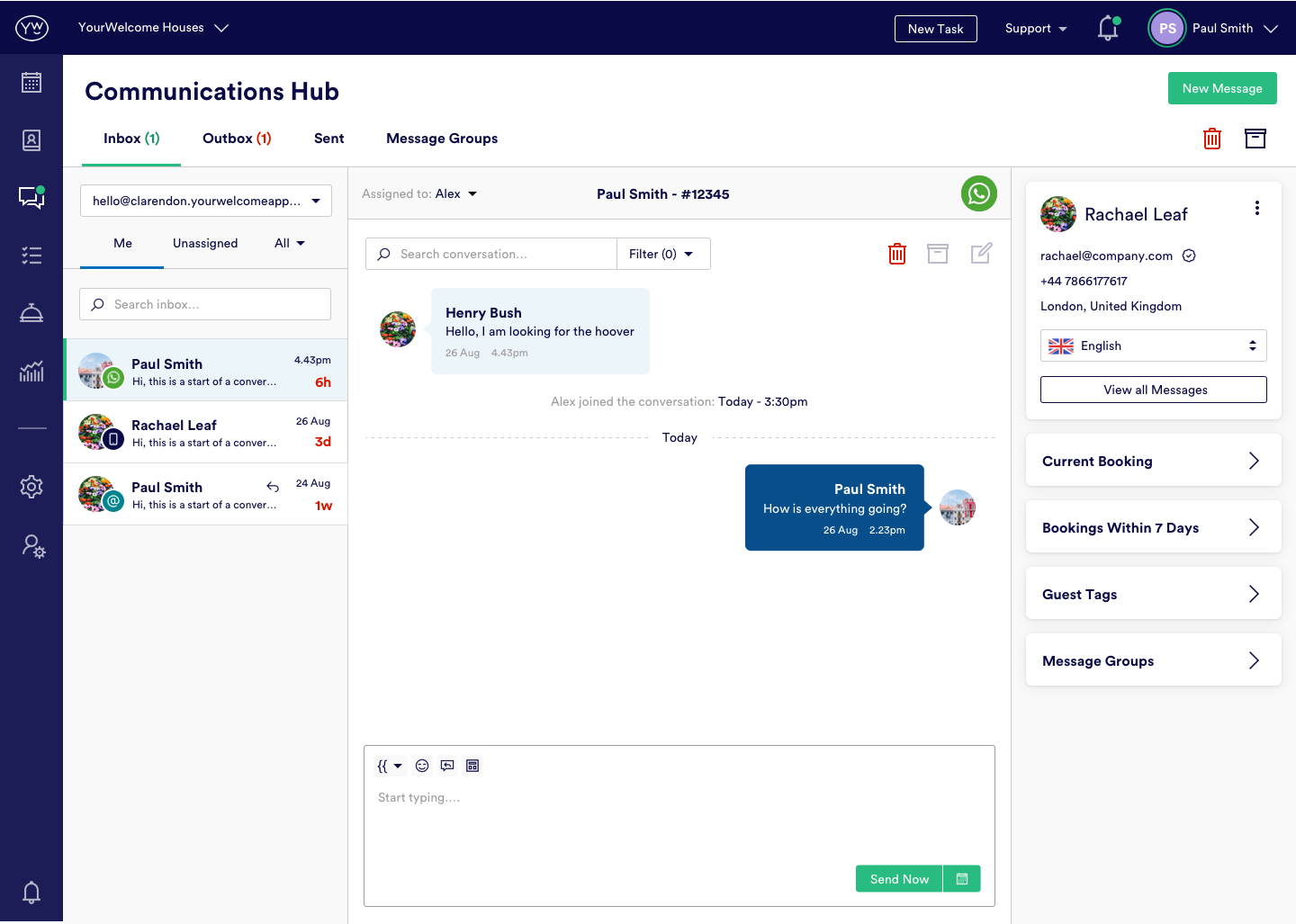 PropertyCare.com offers a complete SMS solution for your vacation rental business. The platform offers you up to 2 free cell / mobile numbers and unlimited SMS messages. All SMS communications are sent via the web platform and can be sent and managed by multiple team members. All SMS responses are aggregated in one unified inbox, together with emails from that guest – ensuring that all guest communications are in one place. In addition, the platform enables property managers to set up automated SMS flows with triggers, (ie send SMS if the guest does not complete post stay survey.