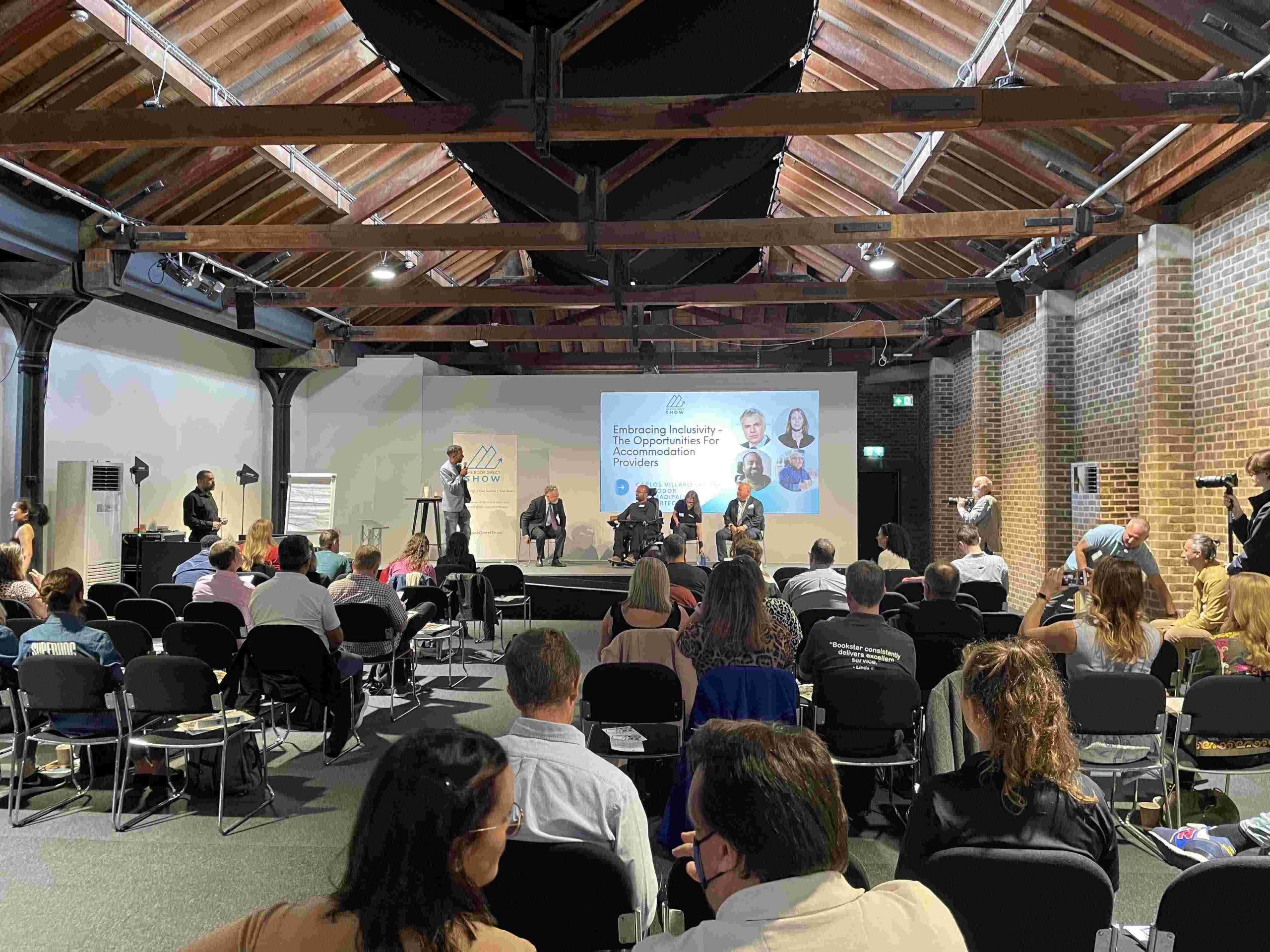 The long wait for in-person conferences ended on Monday with the opening of The Book Direct Show at Tobacco Docks, London. The event was run by familiar industry faces (Damien Sheridan & Deborah Labi) and supported by many of the tech suppliers to the industry. The event was a pre-cursor to the Short Stay Summit at the same venue the following day.
Highlights from the Book Direct Show:
Carlos Lassen, Kelly Odor, Srin Madipalli, Mike Ortegon  – Panel Discussion on The Opportunities For Accommodation Providers: Embracing Inclusivity
The panel explored the challenges faced by guests being discriminated against within the industry. The panel was moderated by Carlos Lassen. Carlos was joined by Srin Madipalli who sold his business,
Accomable
 to Airbnb and is now focussed on helping people travel who have disabilities, Also on the panel was Kelly Odor, marketing director of
Bookster
and Mike Ortegon from
Vacation Rental Professionals
.
The panel discussed whether OTAs incorporating inclusiveness was based on solely on good business sense and if so, are they doing enough. The panel were united in saying that there was a wider moral issue at stake. The panel discussed that short term rentals are more inclusive than other accommodation types but the challenge is that individual hosts and small businesses may not to be aware of their legal obligations. This is a topic that is rightly on the agenda of OTAs and the wider industry and we look forward to seeing progress in the coming months.
Mark Simpson (Boostly)- Email Marketing Made Easy!
Mark is one of the biggest advocates of Direct Bookings and gave a very engaging speech. Mark outlined some practical tips for property managers for email marketing. 

Mark rightly stated that it is more than likely the first time a guest stays with you, they will have come from an OTA booking. However, the property manager is at fault if they ever book your property again through an OTA instead of via a direct booking.
Mark stated that email marketing is the best way to market your property and has an amazing ROI. This statement was backed up by practical advice on how to write great email mail outs.
He stated 4 key rules of email marketing.
1. Never send an email after lunch. Send the mail in the Morning (first thing) or 8pm/9pm when people access their emails on their phone.
2. Have a click bait title
3. Tell a story
4. Have a clear call to action
The talk then turned to the major problem of OTAs masking guest email addresses. Mark recommended a number of tools to help access the guest email address including Stayfi and
YourWelcome Tablets
.
Well done to the Book Direct team!